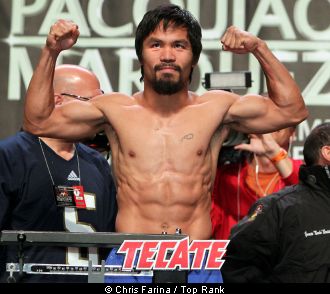 source: Ronnie Nathanielsz |

PhilBoxing.com
Eight division world champion and "Fighter of the Decade" Manny Pacquiao is expected to use his four pound weight advantage over Mexican legend Juan Manuel Marquez to go for a knockout in their fourth showdown at the MGM Grand Garden Arena on Sunday, Manila Time.
The fight card will be telecast over GMA 7 beginning at 11:00 a.m. while the Pacquiao-Marquez battle for the specially crafted WBO "Fighter of the Decade" belt and the title bouts of Gesta and Farenas will also be telecast "live" by ABS-CBN on The Filipino Channel for large audiences of Filipinos abroad "live."
After one last workout at the Top Rank Gym on Friday, Pacquiao tipped the scales at 147 pounds while Marquez came in at 143 although strength and conditioning coach Alex Ariza told us Marquez looked bigger while both fighters looked strong, ripped and ready.
Ariza told us "Manny has a plan and with that kind of a strength and weight advantage to carry it out."
According to the strength and conditioning coach who has been in Pacquiao's training camp since two weeks before he demolished WBC lightweight champion David Diaz and then went on to pulverize Oscar De La Hoya, Ricky "The Hitman" Hatton, Miguel Cotto and Antonio Margarito, Pacquiao's plan is "to be aggressive and knock him (Marquez) out."
Ariza added "the more weight you weigh in the more power you have."
He said aside from his power, Pacquiao has shown remarkable hand-speed in training and "is quick and explosive."
Ariza said that prior to and at the weigh-in Pacquiao was "in very good spirits, joking around. He was very good."
The strength and conditioning coach noted that Marquez was "very serious, very fit, very focused on fighting Manny."
Ariza believes "both fighters have a plan in their heads. Who is crazy enough to come out and try to execute it at the get-go is going to tell the story. Manny in his day would jump in like there was no second round and kept bombing away. It's the man who is going to be conservative I think, is the man who is going to have a problem."
Marquez told BBC World Service "I am looking for the knockout because the judges gave another decision (in their third fight which Pacquiao won by a majority decision). I have trained really hard and I need to fight a perfect fight."
Two other Filipinos face formidable opponents in separate world title fights with undefeated southpaw Mercito "No Mercy" Gesta battling IBF lightweight champion Miguel Vazquez of Mexico and another southpaw, Michael Farenas facing undefeated Cuban star Yuriorkis Gamboa in a WBA super featherweight interim title fight.
Gesta's trainer and co-manager Vince Parra said Gesta "came in strong at 134 ½ pounds and it looks great from our standpoint. It looks like Vazquez (135 pounds) looks like he is in shape too. While he is going to defend his championship I believe we are going to take the belt."
Parra said Gesta "looks great, is in the best shape of his life, he's got his family here, had a great camp and had no trouble making the weight. He's strong and not drawn out" like he was in the past in trying to make 135 pounds.
Although the skeptics at the start believed a fourth fight wouldn't draw, ticket sales have proven them terribly wrong.
An ecstatic Top Rank promoter Bob Arum announced that the 16,000 plus tickets have been sold out turning in revenues of over $10.5 in "live" gate.
Arum said "Manny and Juan Manuel may have unfinished business in the ring but as far as the live box office, it's business as usual – another sellout."
The astute promoter said "I encourage boxing fans to purchase their closed-circuit seats today because the projections are looking like a sell-out there too."