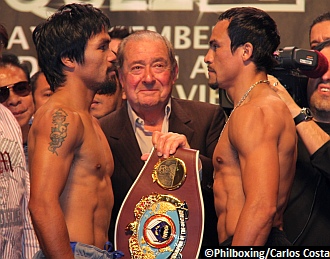 source: Carlos Costa |

PhilBoxing.com
LAS VEGAS, Nevada
- Superstar Manny "Pacman" Pacquiao, known as the fighting pride of the Philippines, weighed-in 147 lbs (66.68 kgs) while old nemesis Mexican Super Lightweight World Champion Juan Manuel "Dinamita" Marquez tipped the scale at 143 lbs (64.86 kgs) ahead of their much awaited 12-round clash for the "WBO Champion of the Decade" belt tomorrow at the MGM Grand Arena here in Las Vegas, Nevada.
In attendance during the weigh-in was former heavyweight world champion "Iron" Mike Tyson who wished good luck to Pacquiao and Marquez, as well as popular artist Curtis James Jackson "50 Cent," known for his 8-time platinum album "Get Rich or Die Tryin'."
Other boxing celebrities like Hall-of-Fame Julio Cesar Chavez Sr. and Marco Antonio Barrera were present as well as part of the Mexican TV media staff covering the important event as well as gorgeous Tecate girls walked around the stage promoting their popular cerveza, a major Top Rank sponsor.
During the HBO televised ceremony, both fighters looked in excellent shape, ready for their fourth war, which most likely would be the final one between the two future Hall-of-Famers.
After making his weight, the 39-year-old Marquez, who was accompanied by legendary trainer don Ignacio "Nacho" Beristain, said to the audience:
"I am well prepared because this will be a very tough fight. I will put pressure on him (Pacquiao) as soon as we stepped in the ring. This combat might not be the greatest fight in my career, but is the most important fight to define who the best fighter is."
In addition, the 4-division world champion Juan Manuel Marquez added: "In this fight, all factors are important: power, intelligence, good boxing, and speed."
Seconds afterwards, the 8-division world champion Manny Pacquiao (soon to celebrate his 34th birthday), said to his enthusiastic adoring followers in attendance at the weigh-in:
"I am happy to give honor to my country in boxing. I've enter politics to be a congressman because I want help the people. I I know about the families in the Philippines who have been affected by the storm. This fight is dedicated to them. I have focused for this fight. We had a good training and I am ready."
Finally, asked by veteran HBO anchor Larry Merchant: "Manny, do you still have fire in your belly to do this?" the hugely popular Pacman replied: "Yes, that is true."