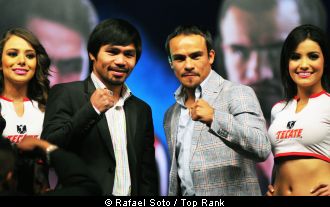 source: Reylan Loberternos |

PhilBoxing.com
Tagbilaran City, Philippines
– The last time these two fighters fought, everybody thought it would be the last time they'd lock horns. This time around, with its fourth installment, it seems as though the war never ends. If this is to be the last of all lasts and the final of all finals, there's absolutely no doubt that the result of this one would supersede all three earlier episodes both in terms of historical significance and intrinsic value. If it were a basketball game, this 12-round encounter would correspond to the 12 minutes in the final quarter. Like basketball buffs would like to say, "Games are not won in the first three quarters… games are won in the fourth."
For Manny "Pacman" Pacquiao, this fight is all about peace of mind. It is neither about redemption for his controversial "loss" to Bradley, nor is it about the attainment of personal glory. The fighting pride of the Philippines can't deny it. Despite a winning record thus far against his Mexican nemesis, in his mind, Marquez has got his number… and beating him would finally put an end to the nightmare brought about by Juan Manuel's constant and unending declaration that he beat Pacquiao. This is what makes this fight all that important for the Pinoy firebomb.
On the flipside, Juan Manuel "Dinamita" Marquez guns for the ultimate vindication. He's had a remarkable career… a career that's definitely headed to Canastota. But make no mistake about it. Any chance he can get to grab that very illusive W against a fighter he long considers inferior will always be first on his list of priorities. Beating Pacquiao this time around would definitely put some merit into his previous claims… and that's all he thinks and needs right now.
What makes this fight doubly interesting is the fact that the outcome is still up in the air. Apart only from their 6-year age gap, Pacquiao and Marquez are just about the same on many fronts. They have the same reach and Pacquiao stands just about half-an-inch shorter than Marquez. Their win-loss-draw records are even stunningly similar. Pacquiao holds a record of 54-4-2, 38 Kos, while Marquez boasts of a 54-5-1, 39-KO record.
Though Pacquiao is best known for his vaunted speed and unparalleled work-rate, both these areas left so much to be desired in his last outing opposite Timothy Bradley of the United States. The punching power was still there… but his speed, stamina and work-rate had seen better days. Pacquiao dominated Bradley majority of the bout. Yet, the guy he dominated dished out 88 more punches than he did. Worse, starting in the 10th round, a round when he usually starts to show his superiority in stamina and conditioning, Pacquiao rarely threw a punch. That was probably father time finally knocking on Pacquiao's door… or it could be because he was fighting against a faster, younger, and more agile opponent.
Marquez, on the other hand, though still very potent and efficient, has also shown minor signs of regression in speed. Speed, however, has never been Marquez's greatest weapons. Cunning, timing, and vast boxing and counterpunching skills are indubitably the reasons for the Mexican's staying power.
Nevertheless, Pacquiao still has the upperhand in the speed department. Marquez loves a chessmatch and with his advanced age into consideration, he's at a disadvantage when getting blitzed. Pacquiao's body has now grown into a natural welterweight, keeping his vaunted speed and power, while bringing his pugilistic skills to an entirely new level. On the flip side, Marquez is years and several pounds separted from his prime. His best chance is to stay true to his counterpunching style – the art of waiting. If Pacquiao becomes tentative, as he was in the later rounds of the first encounter and in most of the rounds in their second salvo, Marquez is definitely going to give him a good run for his money. But if Pacquiao goes for broke from the get-go, Marquez isn't going to last that long.
Juan Manuel's greatest weapon against Pacquiao has always been his left-uppercut-right-straight combo, followed by a jab or two… but he needs time and timing to set this up. If Pacquiao decides to neutralize this with his own jabs and occasional right crosses before letting his left hand go, instead of his usual and rather overused jab-left-straight combo, this could prove to be the determining factor for this encounter.
Though it might be true that Pacquiao has had more trouble against Marquez's patient and precise counterpunching strategy than with any other fighter he has faced inside the squared circle, truth be told that a much smaller and lesser version of today's Pacquiao made the better and faster version of Marquez hit the deck a total four times in two fights. This bigger and better version of Pacquiao will certainly just run over this older and slower version of Marquez if the Pinoy fighting dynamo chooses to. The only question is… will he?