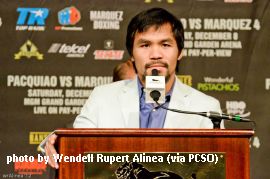 source: Eddie Alinea |

PhilBoxing.com
LAS VEGAS(PNA via PCSO)
– The storied Manny Pacquiao-Manuel Marquez boxing feud must end Saturday (Sunday in Manila) when Episode 4 of their nine-year storied rivalry takes place at the MGM Grand Arena . Both the Filipino gladiator and the Mexican warrior, who fought three times before starting in 2004, ruled out a fifth confrontation promising to win in definitive fashion, possibly knockout, and erase the doubts they themselves and their legion of fans have been entertaining even as Pacquiao holds a 2-0-1 win-loss-draw record.
"I opted to fight Marquez again because he always claims he won our previous three fights," Pacquiao said minutes before Wednesday's pre-fight press conference. "He needs to prove something and I want to give him that chance."
"People tell me I beat him in the last three fights," Marquez said. "A lot of people feel I really beat him. I wasn't to have my hand raised. I want the judges to really look at what they are doing and get it right this time."
This and similar statements have been repeatedly uttered by Marquez since he managed a draw decision when they initially fought in 2004 and even in the second and third meetings when the Filipino eight-division world belt-holder settled for a split and majority decision triumphs.
Statements that naturally irked the ever patient Pacquiao and members of his team. Why, the Mexican even went to the Philippines one time before the third showdown to proclaim before the Filipinos his claim of victories.
The outcome, according to Pacquiao, happened because of Marquez's refusal to mix it up in those three fights.
"You cannot say you won the fight when you are always running. If you're claiming you won the fight, then you have to fight and not run," Pacquiao, at one time, said showing frustrations on the Mexican's actions,
For both, the only thing they must do to once and-for-all settle the long-running issue is to win via knockout.
For Pacquiao's head trainer, his prized pupil has the capability of emerging triumphant by stoppage more than Ignacio "Nacho" Beristain's guy.
"Marquez hasn't seen the best of Manny," Roach said when chanced upon by the People's Journal Thursday at the media center where he and Beristain attended the briefing that tackled the rules to govern the 12-round showdown,
Roach noted that Pacquiao knocked Marquez down in their first meeting. He again sent Marquez kissing the canvass in the second and while there was no knockdown in the third, his boy landed more poser punches than his arch-rival.
"Marquez had never knocked Manny down in their first three fights," Roach observed, adding that in Pacquiao's Los Angeles camp before motoring here last Monday, he dropped sparring partners four times.
"Manny said he wanted to go back to the Manny of 2004," the five-time trainer of the yecar and Hall of Famer added. "I don't think that was possible, but he's had four knockdowns in training. He's on fire."
Asked to comment on Mexican promoter Fernando Beltran' s statements that Marquez had grown muscles like a 'hulk', Roach uttered, "you put on a lot of muscle for a reason. If he wants to exchange, that'll be better for us."