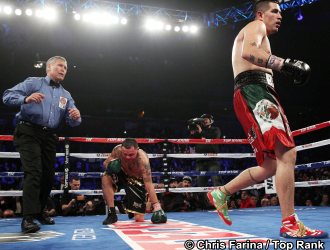 source: Rich Mazon |

PhilBoxing.com
Carson, CA
- The much anticipated and talked about war of a fight between two undefeated and non-fearing warriors in Brando Rios and Mike Alvarado lived up to its expectations and more.
The two went at each other from the opening bell and never stopped from there. They went at each other like two hungry predators proving who the better beast is.
The bigger Alvarado jabbed initially but Rios came forward and brought the fight in the inside. Hooks, uppercuts and straights rained like rain here in South California from both sides of the ring in the initial salvo of the scheduled 10 rounder.
There was never a dull moment from then on as "Oh's and Ah's emanated from the crowd as the rounds progressed from then on.
The rounds were not the only one that progressed, so are the vicious punches from both warriors of the ring.
Alvarado buckled Rios in the 3rd round but Rios just smiled at him and egged him to hit him more. Rios returned the favor and never backed down as he landed uppercuts on his foe.
Rios just kept moving forward Alvarado who is getting tagged when Rios crowds him in the inside. Alvarado would not also back down from Rios, landing crisp blows of his own against his foe.
It was literally a see-saw battle between two brave fighters of the squared ring. It was a boxing fight that felt more like a street fight here in South California as blood and sweat poured out of both fighters in the cold California night.
The end came in the 7th round when Rios landed multiple head shots that finally took its toll on Alvarado.
Alvarado was shaken as Rios landed squarely on his head. He was dazed and his hands dropped from the barrage of punishment. He laid his back on the ropes and Rios pounded on him.
Referee Pat Russell halted the fight after seeing enough in the 7th round as Rios celebrated and collapsed in his corner.
Alvarado who initially objected to the ruling sat in a stool as he realized that the fight is over for him when his corner and the ringside physician came over his side.
In the end, there was nothing for him to be ashamed of. He fought a tough, game and rough fight against a foe that never backed down himself.
This was more than boxing, this is what everybody expected.
It was an all out war!