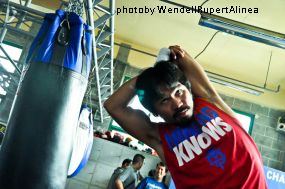 source: Eddie Alinea |

PhilBoxing.com
MANILA (PNA)
- The first leg of Manny Pacquiao's ongoing training camp in General Santos City for his next fight against Juan Manuel Marquez goes full-blast starting today.
While the opening week of the camp concentrated on recovering stamina through roadwork and less gym session, this week's program build up will have the same oval regimen at the General Santos Sports Complex in the mornings, but, this time, complete with gym activities after lunch.
"Medyo nare-recover na ang stamina, so dagdagan na namin ang volume with regular gym activities as punching the mitts, visiting the heavy bag, double end and speed balls as well skipping ropes," long-time trainer and friend Buboy Fernandez said yesterday.
Gym sessions actually started Thursday last week, according to Fernandez, who like his bosom pal is seeking a congressional seat in next year's mid-term elections albeit via Party List representation. "Pero light lang. Starting Monday though, we'll be a bit heavy until we leave for Manila middle of the week."
The plan, according to Pacquiao himself in a talk with People's Journal last Thursday, is to fly to Manila October 10 to resume training at the MP Tower Gym in Sampaloc for four days before proceeding to Los Angeles October 13 where trainer Freddie Roach is waiting at his Wild Card Gym to take over overseeing the preparations from Buboy and brother Haplas, who has been assisting the latter in the GenSan side.
The Hall of Fame trainer Roach, meanwhile, welcomed Pacquiao's pitching camp first at General Santos, in lieu of the traditional Baguio City location, before going to L.A.
"It's good Manny has started working out two weeks ahead so he can be prepared for a much tougher, harder grind when he gets to Wild Card," Roach said in an overseas telephone interview. "The gym is ready and waiting for him."
Roach said he has chosen veteran welterweight Frank Gomez as Pacquiao's first sparring partner in the early part of the camp. "Of course, there will be a couple or at least three more."
Roach confirmed an earlier announcement that his Wild Card Gym in Vine Street at the heart of Hollywood will be closed starting October 15 when the world eight-division champ starts the second leg of his build up program.
"The gym will be closed to everybody, except myself and Buboy and members of the training staff from one o'clock in the afternoon till 5 p.m. for all of us to focus on the preparation," the 52-year-old boxing guru said adding the gag order is part of the few changes that will be imposed in the program.
"Both Manny and Marquez expressed desire win impressively to erase the doubts that marked their first three meetings, so, we thought to changing things up a bit to attain our goal," the five-tie trainer of the year said by way of explaining the move.
"Manny's coming in a few days and I can't wait for us to get started working together again," he said. "For the next seven or eight weeks, the gym will be his and his alone with no one distracting him."
"The focus now is to finally solve the puzzle that is Marquez. It's a challenge and we all know we have to win by knockout," he said. "Manny himself told me too. So I say amen to that. Let's buckle down to work and meet the challenge."