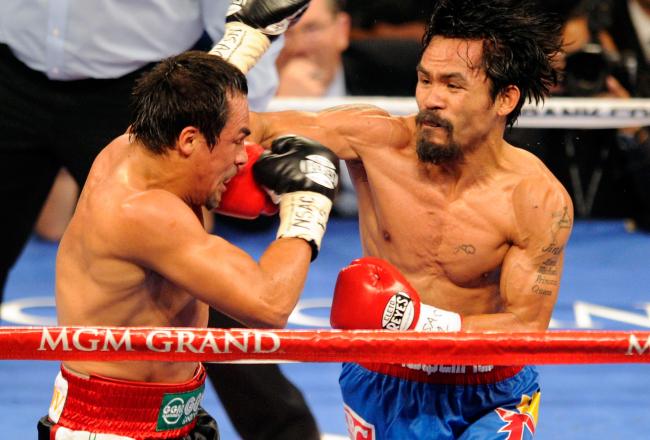 source: Paul Magno |

Yahoo! Sports
COMMENTARY
| At face value, Manny Pacquiao vs. Juan Manuel Marquez is the fourth in a series of bouts between pound for pound, all-time greats. It's Pacquiao's frenetic aggression and dogged determination against Marquez's expertise and skilled counter-punching. In a perfect world, this would be a highly anticipated clash and fans would be excited about the possibilities on December 8th.
Instead, those who aren't flat-out bored by the prospect of Pacquiao-Marquez IV seem to be flat-out disgusted.
So, what happened? Why is this quality match-up not lighting up social media sites and boxing message boards?
The short answer is that, regardless of what some fans and sycophants care to admit, Team Pacquiao has established some real, negative karma recently.
First, or course, there's the non-bout with Floyd Mayweather.
Team Pacquiao has never shown the slightest intention of ever making the one fight everyone wants. Forget the public relations dramas and media statements, nobody on Pacquiao's side has ever seriously tried to sign the bout. As a matter of fact, on the only two occasions where both sides were in direct contact, Team Pacquiao walked away from the table both times. Even more frustrating is the fact that Pacquiao and his crew are so set on coming to terms when no negotiations are taking place, yet so petulant and unresponsive when the fight actually becomes a possibility.
Mayweather, of course, deserves his share of the blame for the big fight never happening, but Pacquiao certainly merits his share of negative blow-back as well.
Another factor souring Pacquiao-Marquez is the fact that the three previous contests have featured scoring controversies-- all, arguably, to the benefit of Pacquiao.
While their first encounter in 2004 could be seen as a justified split decision draw, a case could be made that their other two bouts could easily have gone in Marquez's favor.
In 2008, Pacquiao took a twelve round split decision from Marquez in a bout that most felt the Mexican should've won. Even among Filipino media members, the consensus opinion was that Marquez had done enough to take a close decision.
Then, in 2011, the two future hall of famers engaged in another close battle with the Filipino superstar getting every benefit of the doubt and walking away with a majority decision victory. Once again, most observers were in agreement that Marquez had done enough to win, but the judges' scorecards told another story.
While these questionable calls weren't Pacquiao's fault, personally, they did ruin the narratives of otherwise stellar contests. It also created the impression that Marquez wouldn't and couldn't ever get a fair decision when facing Pacquiao. So, with another close contest likely to come, fans are anticipating the same story all over again. Barring some odd occurrence, Pacquiao-Marquez IV will probably go to the scorecards and then, if history lives up to its pattern, the decision won't likely be in doubt.
Another bit of negative karma for Pacquiao revolves around the entire Timothy Bradley fiasco.
There's little question in any reasonable observer's mind that Pacquiao not only won the Bradley fight, but completely controlled most of the contest. However, Bradley somehow beat conventional logic and walked away with the split decision win. The craziness that ensued left many with a bad taste in their mouth and gave rise to some conspiracy theories involving fight fixing and some complicated web of intrigue featuring Pacquiao, Bradley, and Marquez.
Even more disturbing for some is the fact that Pacquiao has decided not to exercise his rematch clause to take back his WBO welterweight belt from Bradley.
So, given that Pacquiao is fighting someone who may or may not have been shafted twice in close contests against him and that he's not fighting the two guys most deserving of his attention (Mayweather, Bradley), it's easy to see why some fans have become turned off by the upcoming Marquez bout.
Still, based on its merits, alone, as a quality prize fight it deserves it's proper place and respect. No matter what happened before or will happen after, it's going to be an entertaining battle.