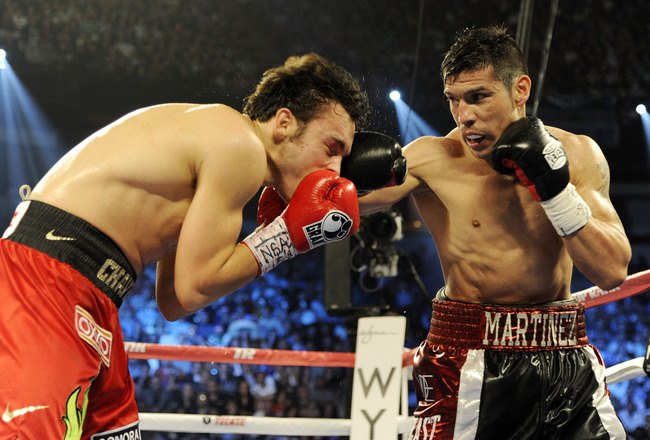 source: Lana Bandoim |

Yahoo Sports!
Julio Cesar Chavez Jr. now claims that his insomnia was responsible for the positive drug test because doctors recommended a tea that contained marijuana. Chavez explains that he is not a drug addict and is refusing to follow the World Boxing Council (WBC) recommendations about entering rehab. The WBC has fined him $20,000 and suspended him indefinitely with a reinstatement that hinges on his successful completion of a recovery program, so his protests will not help him get back into the ring.
Chavez Jr.'s Objections
In a recent interview with ESPN, Julio Cesar Chavez Jr. has denied having an addiction and has explained that he has suffered from insomnia for years and received drops containing marijuana from his doctor: "[D]esde hace años tengo problemas de insomnio; entonces el médico que me atendía me recetó unas gotas que contienen cannabis." Chavez Jr. has also added that he took a tea containing the drug to relax under doctor's orders and believes it is "medicinal."
Chavez Jr. has vehemently denied claims that he is an addict and does not want to enter rehab. He has offered to take more drug tests to prove that he is clean in addition to submitting a handwritten apology, but the WBC's recommendations are clear in this case and demand treatment. Julio Cesar Chavez Jr. does not seem to have a choice if he wants to overturn his indefinite suspension.
Jose Sulaiman Believes Chavez Jr. Has a Gambling Problem
The president of the WBC, Jose Sulaiman, believes that Julio Cesar Chavez Jr. is also suffering from a serious gambling problem that has cost him millions of dollars. Sulaiman, who is actually Chavez Jr.'s godfather, insists that rehab is necessary for his recovery, and he mentioned, "He has lost his head."
Chavez Jr. has not responded to the gambling rumors and has been focused on fighting the need to attend a drug rehabilitation program. He has an upcoming hearing with the WBC, but it is not likely to change the current requirements for his reinstatement. In addition, the Nevada State Athletic Commission will be releasing its penalties for the positive drug test soon.