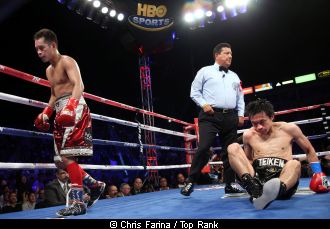 source: Rich Mazon |

PhilBoxing.com
Carson, CA
- Nonito "The Filipino Flash" Donaire proved his supremacy of the Super Bantamweight class with a stoppage of the long time king of the division in Japanese Toshiaki Nishioka.
The fight started as a tactical match between two ring tacticians of the 122 pound division. It is one which the crowd here a the Home Depot Center did not appreciate as both fighters move and circled each other in the ring.
Donaire tried to bring the action to Nishioka but the Japanese fighter was elusive and smart as he avoided most of Donaire's punches.
The crowd who was on a high after the war between Rios and Alvarado match was weary and uneasy as the action between Donaire and Rios failed to excite them.
The action picked up in the 6th round when Donaire landed a left uppercut that floored his Japanese counterpart.
Nishioka got up and answered the count as Donaire went after him after the break.
But Nishioka did not back down and engaged Donaire in a slugfest to end and finish the said round.
That woke up the crowd here in Carson, California as they applauded the two fighters with that showing in the 6th.
The Filipino landed heavily and accurately in the 8th but Nishioka took it well as he tried to answer with his own punches.
Donaire finished the job in the 9th round as a hard straight rocketed through Nishioka.
Nishioka fell hard but he stood up to beat the mandatory count of eight by Referee Raul Caiz Jr.
Donaire pounded his foe after that and Caiz stopped the fight immediately after witnessing the barrage of shots land on the Japanese fighter.
The time of the stoppage was 1:54 in the 9th.
Donaire wins the WBC Diamond belt and kept his IBF and WBO titles with the victory in front of a crowd of 7,665 here at the Home Depot Center.
Donaire Jr. garnered the thirtieth win of his career while Nishioka suffered his fifth defeat in his forty eight bout career.