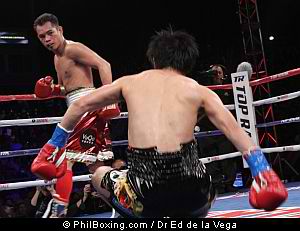 source: Ronnie Nathanielsz |

PhilBoxing.com
Carson City, October 13, 2012
-- WBO super bantamweight champion Nonito "The Filipino Flash" Donaire dominated WBC champion emeritus Toshiaki Nishioka of Japan, dropping him twice before scoring a 9th round TKO when referee Raul Caiz Jr stopped the contest just as Nishioka's corner was about to throw in the towel before a crowd of over 7,600 fans at the Home Depot Center here in Carson City, California.
On the eve of the fight Donaire decided to relinquish his IBF title because of the sanction fees of over $30,000 he was being asked to pay and the fact that he would have to make a mandatory defense in his next fight against the winner of a title eliminator between Takalani Ndlovu and Alejandro Lopez which was not an attractive proposition. Failure to comply would have meant being stripped pf the title.
Unfortunately for Donaire, Nishioka refused to engage in the first five rounds which caused the fans to boo since they had just been treated to an almost certain "Fight of the Year" winner in a brutal, action-packed war between Brandon "Bam Bam " Rios and Mike Alvarado which Rios won by a stunning 7th round TKO.
While there was never a moment in the Rios-Alvarado fight when both men were not throwing vicious punches there were long moments of little action in the Donaire-Nishioka fight with the Japanese southpaw hellbent on protecting himself from the deadly left hook of Donaire and refusing to do battle until he was
dropped in the sixth round by a perfectly timed left uppercut from Donaire.
Nishioka beat the count of eight and suddenly, either out of pride or necessity, began to let his hands go and although he never once hurt Donaire at least the fans cheered as the two fighters began to mix it up.
Donaire hurt his left hand early in the fight and at the end of the fight showed his handwraps soaked in blood in a repeat of what happened when he won the WBO super bantamweight title against Wilfredo Vazquez Jr last February in San Antonio, Texas.
Feeling the pain Donaire realized that his right hand with which he had caught Nishioka a couple of times earlier in the fight was to become his main weapon of destruction.
As Nishioka upped the tempo of his efforts to recover after failing to win a single round and losing the sixth by a 10-8 score because of the knockdown, Donaire lulled him into making the one mistake that cost him the fight.
Midway in the ninth round Donaire backed off against the ropes and encouraged Nishioka who threw a couple of punches, to move forward before unleashing a devastating right straight that sent the Japanese crashing to the canvas.
Although he beat the count Nishioka was wobbly and didn't seem to know where he was as Donaire pounced on him, threw one more vicious punch before referee Raul Caiz Sr stepped in and called a halt at 1:54 of the ninth round just as Nishioka's corner was about to throw in the towel.
In a post fight interview with Dyan Castillejo of ABS-CBN which telecast the fight on Channel 2 and this reporter, Donaire said he had "suffered a cut in training and the tendon could be seen. The doctor told me he will stitch it after the fight. So we worked with the right hand a lot and because my left hand hurt I adopted a different strategy with the right hand."
Donaire revealed "I felt there was blood and pain after I threw an uppercut in the second round. I told myself this is my fight, I have to be strong, have faith in my ability and in God and I'll do everything I can for all the Filipinos. I hope they enjoyed it."
Donaire said he lured Nishioka to come in as he backed off against the ropes in the fateful ninth round. He said "that's what we set up with the right hand. I was leaning to the left more so if he jabbed his face would be open and I could
use my right straight which is what I did."
He said "the fight was slow at the beginning but the moment I saw him hurt I saw him open. I said to myself I'm going to get the opportunity so just be patient."
Top Rank promoter Bob Arum who was ecstatic over a tremendously exciting fight card said there are several opponents lined up and "we are going to get him everybody who is out there at 122" including Guillermo Rigondeaux which Arum described as "a terrific fight down the line and Abner Mares later in 2013.
Another guy who would love to fight Nonito and I think he would be willing to go to Mexico to do that is Jorge Arce in that arena in Mexico City which is one of the greatest in the world."
Arum said "I thought Nonito fought a very good fight. Nishioka was very, very cautious but his strategy was to lure Nonito and land the homerun punch. But Nonito is very clever. He's a very good fighter and he has tremendous power and he showed how good he was tonight."
Nishioka cried as he left the ring having disappointed scores of fans who had flown in from all over Japan to watch the fight. Speaking through an interpreter Nishioka said Donaire was "strong in the early rounds so I was looking for the middle or
later rounds."
The Japanese said he was "surprised with the first knockdown" even as he said that Donaire was the fastest fighter he had ever fought.
The CompuBox stats told the story. Donaire connected on 134 of 485 punches thrown while Nishioka threw 199 and connected
with 49. Donaire out-jabbed the Japanese 239-112 and in powet punches Donaire connected with 111 of 246 while Nishioka
only connected with 36 of 87.