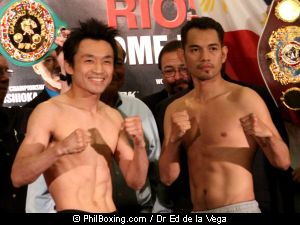 source:

PhilBoxing.com
Manhattan Beach, CA
- The weights are in for the ring gladiators that are scheduled to fight in tomorrow's double header at the Home Depot Center in Carson, California.
WBO and IBF champ Nonito "The Filipino Flash" Donaire of General Santos City, Philippines stepped in the official scales of the California Sports Athletic Association (CSAC) first and weighed in at 121.6 lbs.
WBC Super Bantam "emeritus" champion Toshiaki Nishioka of Tokyo, Japan followed and weighed in at 121.8 lbs.
Nishioka and Donaire will engage in a battle for Super Bantam supremacy, with the winner getting the accolade of being the best in the 122 pound division.
Next to get weighed in are the co-feature of this much anticipated double event of the year featuring Brandon Rios and Mike Alvarado.
Rios of Oxnard, California clocked in at an even 140 lbs. while Alvarado who hails from Denver, Colorado was a shade under at 139.8 lbs.
Both fighters will vie for the WBO Latino Super Lightweight Title, which is only a consolation prize of a bout that everyone is expecting to be an all out war between two undefeated sluggers of the sport.
Here are the rest of the undercards and their respective weights for tomorrow's big boxing event in the Golden State.
(4 Rounds- Featherweight)
Cesar Garcia: 130 lbs. - Saul Rodriguez: 129.6lbs.
(4 Rounds-Middleweight)
Katrell Straus: 167.2 lbs. - Ronald Ellis: 168 lbs.
(4 Rounds-Light Heavyweight)
Eliseo Durazo: 178.4 lbs. - Trevor McClumby: 174.4lbs.
(8 Rounds-Lightweight)
Javier Garcia: 135.6 lbs. - Jose Roman: 136 lbs.
(8 Rounds Super Lightweight)
Pavel Miranda: 144.2 lbs. - Jose Benavidez Jr.: 143.4 lbs.
(8 Rounds-Featherweight)
Jose Angel Beranza:125.4 lbs. - Evgeny Gradovich: 125.6 lbs.
Swing Bout: (4 Rounds - Featherweight)
Jazzma Hogue: 120.8 lbs. - Victor Pasillas: 121.2 lbs.
Now that the weights are in and the formality is done, war awaits tomorrow night in Southern California.